Events
2008 TAGGART FAMILY REUNION
CODY, WYOMING
If this reunion is even remotely like the 1998 Cody reunion we are in for a not-to-be-missed treat. Remember that, don't miss it! Start making plans now for the Tetons, Yellowstone and CODY!
2006 TAGGART FAMILY REUNION
BOUNTIFUL, UTAH
Dixie's Wrapup Report:
Saturday, August 5, 2006 was a very hot day in Utah, but the really "hot spot" was in the West Bountiful City Park at the George Washington Taggart Family Reunion. It was a blast!
The day's excitement came after an inspirational evening temple session - using Taggart family names - the night before. It was exciting because of all the information and photos that were available, it was stirring and inspirational because of the flag ceremony, the historical presentations, our guest speaker - Ronald Barney, and the wonderful music and talent that was presented. It was heart warming as we greeted each other in love and friendship. Stephanie Guinn said it best, "Taggart reunions buoy me up like nothing else but the temple." And buoyed up we were.
Glenn and Marilyn Goodrich and their family really outdid themselves as chairmen of the reunion. They provided welcome tents, speaker systems, a real chuck wagon, a special GWT tour of Bountiful, tables, chairs, water, ice, love, talent and hard work. We can't say enough about their contribution. Their daughter, Kathy, even provided a nursing station for those that got too much excitement and sun. They bought and served the food, kept us together and grounded, and provided a special "can do" spirit that was outstanding. Love those Goodriches!!! And you thought they were outstanding because of Jeff, their song writing son, and the McKenna Family, their musically talented family group that wowed us with the talent show! Mom and Dad Goodrich showed us where all that musical talent originally came from and how they can organize it to do wonders! What a day and night!
And the food - it was wonderful and there was plenty of it! It was amazing to watch Steve Berlin cut up those roast chickens for dinner! Rick and Evelyn McConkie provided soft drinks and corn on the cob - and dazzled us with wonderful family photos, charts and exciting information about our "pirate" ancestor - among other things. A drawing for what they brought was a special event!
Other displays were outstanding - to name a few: Julie Rabe actually took around, so we could carefully handle, GW's glasses! Tim Taggart brought some wonderful, professionally taken photographs of GW's family in its original photo album! A new 20 foot wide x 12 foot high, cloth Taggart Family Reunion Tree was displayed and started so that all family members and special speakers attending our reunions can sign their names and date on the leaves. There was artwork, paintings, etc., that were outstanding. We have a lot of talent in our family!
Steve Berlin designed the 2006 reunion "Taggarts Rule" navy blue T-shirts that even "fashion conscious" teens thought were terrific. Steve also gave us information on our website. We can now set up "chat rooms" and use the website for our e-mail addresses. Did you know that? He and Rick M. also gave information about DNA testing and how we are using it in tracing our blood lines.
Kristie Bush gave a wonderful tribute to Jeanette Taggart Holmes who died last April. Jeanette was such an outstanding person and contributed so much to our Taggart genealogy. Her son, Jim, also told us about her life, her family history library and how much our family organization meant to her. A reunion isn't quite the same without Jeanette, her information, and her encouragement to send in our family group sheets.
Ronald Barney's talk on Eli P. Maginn, the missionary who baptized George Washington Taggart and his family, was truly outstanding. Maginn is a "missing person" in church history today, but Barney felt he will be remembered in the future. Maginn was called as a missionary at age 19 and spent the rest of his life as an outstanding missionary and organizer in the early days of the church in New England. He died at age 26, after only three months of marriage. He had no children of his own. We are truly his legacy.
Eileen Robinson and her family kept the "below teens" active with wonderful handicrafts, games and exciting toys to take home. The Goodrich family kept the teens going with lots of sports and other activities and both groups even had prizes! And who could miss the candy cannon done by the Rabe family?
The Moses Lake, Washington group - how we loved their spirit. We had cousins come in from Texas, California, Wyoming and Idaho, bless them! My Jennifer Lerud, who drove in from Orem, I must thank - she was always two steps ahead of me and that was wonderful because I was generally two steps behind! And the Welcome Committee: Some we knew would be there - like Connie Hazen - and others were enlisted on the spot! Thank you so much for your being there when we needed you.
Which brings us to the trains. They couldn't be ignored - truly. We sang more verses of , "I've been working on the railroad," then most of us want to remember!
And finally, especially missed, and unable to attend due to ill health was Jeannette's sister, Ethel Christenson and Steven L. Taggart, our last family organization coordinator and current family organization trustee. Ethel typed the newsletters for Spencer Taggart when he got our family organization and reunions going again. Her sweet voice on the phone kept us informed and joyful. We also missed the exuberant greetings, smile and warmth of Steve. Recent health problems plus the stress and heat of the reunion made it impossible for him to be with us. We are hoping that he will be with us in Cody, Wyoming, our reunion site for 2008.
Which reminds us of Chris Taggart in Cody, who couldn't attend because he attended the rededication of a Federal Building to his "Uncle Cal Taggart's" name. What an honor! Chris is also our treasurer, in case you didn't know, and we appreciate his help in all things financial.
I know I have probably left out some pretty important information about people who were truly grand at the reunion. Please forgive me. You who were there, and those who worked or sent in contributions but couldn't be there, were all important to our reunion's success. What a wonderful family! What a blessing it is to belong to the George Washington Taggart Family Organization. How grateful and blessed we are that he worked so hard, loved so well, and gave us the lessons of life and spirit to carry us on in this sometimes scary world. May we see you in two years in Cody, Wyoming at the best reunion yet!
2002 TAGGART FAMILY REUNION
MORGAN, UTAH
The 2002 George Washington Taggart Family Reunion is history and what an event it was! Over 500 Taggarts attended. The speakers, events and field trips were fun, edifying and educational. A special thanks to Julie Taggart Rabe, our reunion chair who put it all together. As soon as we can get pictures and a full report we'll post it all here.
2000 TAGGART FAMILY REUNION
LOGAN, UTAH
The millennium family reunion was held in August, 2000 in Logan, Utah in honor of Spencer Taggart who staged so many of our memorable gatherings there. Willing hands and hearts worked hard to make the reunion a rewarding and memorable experience for all.
1998 TAGGART FAMILY REUNION
CODY, WYOMING
The family reunion in Cody, August 14 -16, 1998 was a grand success! Our heartfelt congratulations and appreciation to all those who labored long and hard to bring it to pass. The hundreds who attended, from all over the United States, spent an amazing, rewarding weekend happily immersed in family lore, making new acquaintances, renewing old ones, eating delicious meals and celebrating the ties that bind. Our hosts not only know their serious family history but all the funny parts as well, regaling us with non-stop humorous tales. All felt an old-fashioned welcome and hospitality that will not be surpassed. We will have a more complete report here in the future.
Thank you Cody Taggarts!
---
The following was thoughtfully forwarded to us by Anne Chambers: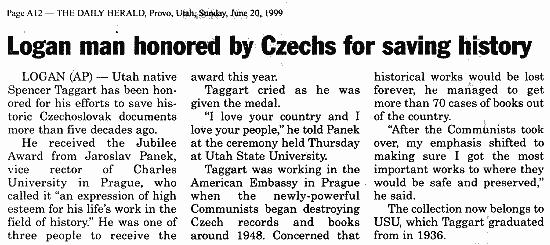 ---
Be sure you don't miss Renee Manwaring's (Perry Elmer-Leona-Harriet Maria-Fanny) article, "FORSAKING ALL," on George Washington and Fanny Taggart in the April 1997 issue of THE ENSIGN! George and Fanny's sacrifice when George joined the Mormon Battalion is cited as an example of how pioneer sacrifice can inspire those who strive to give their best for the Gospel's sake today.