Notes by Steve Berlin, Filmmaker.
Without its music this film would not teach as much and have far less emotional impact than it is capable of. Among the myriad creative aspects of producing the story was the fun of finding and choosing appropriate songs, ones which would be accurate to the period, fitting for such a musical character as George Washington Taggart, and which would contribute to the mood of the story at various places. That meant it had to be light and gay here, triumphant or even mournful there. Jan, Julie, Connie and I collaborated on what we thought fit. In the end we blended 40 songs into the production!
The Deseret String Band
I knew where to start looking and soon found a perfect album from a familiar group, The Deseret String Band
Utah: Songs of Statehood was ideal. A quick visit to my friend and band member Leonard Coulson at Intermountain Guitar and Banjo, who had sold me my bluegrass guitar years ago and we were in business with carte blanche to use DSB's great music. I wound up using six songs from the album. All the songs on the album are a lot of fun but it was always easier to use instrumentals than vocals.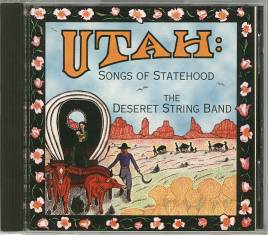 The band can be contacted through the Web sites above.
---
Firewood Band "Playing like it's 1847 since 2002."
While Jan and I were at Old Deseret Village for the 24th of July celebration we found an unexpected treat in the bowery: Firewood Pioneer Band was playing old time tunes that had everyone clapping and dancing and generally having a good time. We asked permission to film and they were happy to give it. That is the footage of a live band in the film playing the old tune Arkansas Traveler. A little conversation and some e-mail contacts through band member Marsha McBride and the band had generously agreed to let us use not only the live footage but music from their new CD in the production as well.
We have corresponded with and seen them several times since and they are always warm and friendly people - and very accomplished music makers. We count them among our friends. I sent them some copies of a few tunes from the book Sliptown, about Sharon, New Hampshire and they are working some of them up. We used seven of their songs.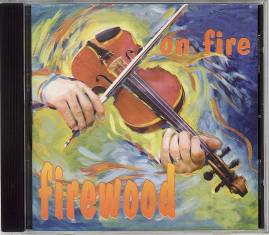 The band can be contacted through their Web site.
---
The Beehive Band
More searching led to the fortuitous discovery of a group that had been around for years but I had somehow missed - The Beehive Band. They produced a two CD album at the time of the 1997 sesquicentennial celebration of the Mormon Trail that I acquired, and we all soon fell in love with, called Hymns, Songs and Fiddle Tunes of the Mormon Pioneers. Contacting two of the principals, Steve and Mark Jardine, GWT soon had permission to use their music as well. We play fifteen of their songs from the double album.
One tune that immediately got under our skin was their version of All is Well, the mother tune of Clayton's Come, Come Ye Saints which has become the anthem of the Mormon emigration to Utah and signature song of the Tabernacle Choir. The Beehive Band was doing something with this old hymn we just had to know more about and Connie recognized the style of singing as something she had swooned over at the beginning of the PBS production of A Midwife's Tale about 18th century Martha Ballard.
It turns out the Beehive Band performed All Is Well as a shape note song. Shape note singing (also called Sacred Harp singing for a scriptural reference in an 1840s compilation of songs) is a distinctive, primitive, harmonious, beautiful, rich, loud, foot-thumping kind of hymn singing with roots in 1700s New England but which spread along the mountain backbone all the way to the South where there are still rural church congregations that prefer it today. You might have caught some shape note singing in the recent Civil War movie Cold Mountain. The system uses notes of four different shapes to tell the musically untrained singer where the note fits on the scale and relative to the other notes.
Shape note singing has enjoyed a great resurgence of interest in the last couple of decades and there are now shape note singers everywhere, including in Utah. You can read about it here and you can find a schedule for a very welcoming and friendly bunch of Utah shape note singers here. Singing weekly, wouldn't you know it, the Utah bunch gathers in the historic Pine Valley Chapel replica at Old Deseret Village twice a month. Jan, my sister Connie and her husband Bob and I recently sat in with these fun people in a singing they held during the Candlelight Christmas celebration at the village.
You can hear All is Well playing over the rolling credits at the end, followed by another unique rendition of the Spirit of God Like a Fire is Burning. Here is the cover of the Beehive Band double album: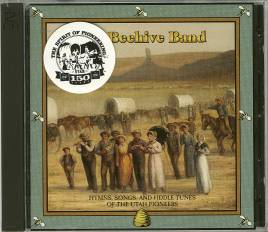 The contact for the Beehive Band is
Stephen Cannon Jardine
3330 S 2700 E #13
Salt Lake City, UT 84109

(801) 461-0019
---
New Hampshire Fiddlers Union
Towards the end of the production I heard from Julie that Jeanette Taggart Holmes had called to say that she had been in New Hampshire some years ago doing genealogy and family history research and was at a country fair or something like that when some friends had steered her to an album on cassette for sale there called The Music of John Taggart by the New Hampshire Fiddlers Union. Amazing!
The Internet lead me down several dead ends but eventually to a very interesting and knowledgeable historian, visual artist and musician named Randy Miller, who with a brother and two others are the fiddlers union. In phone conversations Randy told a great story of how he had become aware that a manuscript by one John Adams Taggart*, 1854-1943, born and bred in Sharon, New Hampshire, and a onetime orchestra leader and composer, had been deposited with the New Hampshire Historical Society. Randy was a member and obtained a copy of the manuscript for study. It was full of music, both tunes familiar to his knowledge of New England historic tunes such as contra-dance music but some new ones as well. Randy is an engaged enough historian to have driven to Sharon and tramped through the woods to find the foundation of the old house!
In time the New Hampshire Fiddlers Union worked up the songs and cut a charming album of the music. I don't know how many copies of the cassette are still available, but I got one and it's great. Again, Randy was very generous in permitting the family organization to freely use their music in the film. We incorporated nine of their spirited and beautiful performances. It is a tune learned by John Taggart in Sharon from his maternal grandmother, A Soldier's Dream, that is so perfect to set the stage for the most dramatic moment in the story, George's dire but triumphant Christmas time return through a deadly winter to Fanny and Eliza Ann at the Missouri River in 1847.
Randy has let us publish the liner notes for the cassette and has furnished some interesting additional explanatory information about his research. Click the cassette image below.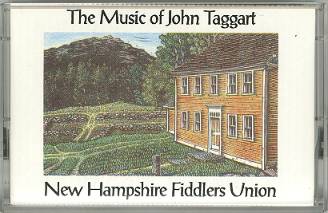 Randy has compilations of the music available in a new book called the Fiddler's Throne just published this year that can be obtained at his Web site, and you can see his extraordinary wood engraving prints, one of which is on the cover above, as well. You will have to ask if there are any cassettes still available. He further suggests:
"Also I hope you enjoy kicking up your heels at a contra dance - maybe some of the musicians have heard of J.A. Taggart..."
Okay Taggarts, that sounds like a mandate for the next reunion. Keep your eyes on dancer and dance teacher Julie Taggart Rabe for more to come. The spring newsletter maybe?
Links for New England Contra Dances
*John A. Taggart could have never met George Washington Taggart since by the time John A. was born they spent their lives at opposite ends of the country. Nonetheless, they came from the same extended Taggart family and identical musical tradition in the tiny hamlet of Sharon, New Hampshire. John A.'s father Phineas was a close contemporary of GWT. Phineas was born in Sharon in 1813, GWT was born in Sharon in 1816. The common ancestor of these two appears to be Captain John Taggart of the Revolution.